The site is currently under major revision, please have patience!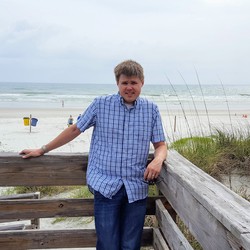 I am an assistant professor of mathematics and CMDA at Virginia Tech. My research interests lie at the intersection of inverse problems, deep learning, and high-performance computing. My work is motivated by problems in science with extreme data and compute scales. I also enjoy in woodworking, photography, hiking, and visiting our national parks. I am available for consulting.
Interests
Inverse Problems & Deep Learning
High-performance Computing
Computational Science & Engineering
Geoscience and Space Physics
Computational Photography
Education
PostDoc in Applied Mathematics, 2011-2014

Massachussets Institute of Technology

PhD in Computer Science, 2011

University of Illinois at Urbana-Champaign

BS in honors in Computer Science, 2005

Virginia Tech
featured photos
Sunset over Tucson, as viewed by a saguaro cactus.
What happens when you see your first bison in Yellowstone NP?
featured publications
We present a faster solver for the 3D Helmholtz equation at high frequencies, including derivations of the preconditioner, and analysis of parallel scalability.